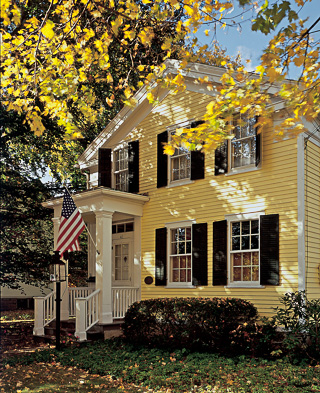 Preserving Architectural Character and Aesthetics
Ten Reasons to Keep Your Old Windows
Your windows comprise a huge part of your home's appearance. Before you replace them, consider the following benefits original windows provide:
Architectural and Historical Character
Original windows are a significant character-defining element of a structure. They are a product of their time - the design, size, number of panes, type of glass, muntin configuration, craftsmanship, and placement all offer clues to the age of a house or building. Their loss can prevent an historic property from being placed on the National Register of Historic Places.
Aesthetics
Your original windows are contemporary with other original materials on your house - they look right. A vinyl window with snap-in muntins on a nineteenth-century structure is jarring to the trained eye and confusing to everyone else. The proportions are wrong, the color is wrong, and the sterile appearance of the glass is disconcerting.
Superior Materials
The old-growth wood in your historic window is tight grained and naturally rot and insect resistant. Domestic wood of this quality is no longer available. Modern wood windows are made from juvenile-growth wood that is often finger joined and dependent on chemical preservatives for durability. Wood elements on new windows are typically warranted only ten years and failure during the brief period is common.
Durability & Sustainability
The classic rope-and-pulley balance system is time-tested and lasts indefinitely, from 100 - 150 years is common. Numerous alternatives have been developed over the years, but none offer the longevity of the original system. Be "green;" save your old windows, keep the air clean, preserve limited resources, and prevent swelling landfills.
Ease of Repair
A current window-hardware catalogue boasts an inventory of 40,000 parts, most for windows manufactured after 1950. Historic windows were made to repair with materials from your local hardware store.

Valuable Architectural Detail

Broken Glass
Broken panes of glass on your old windows can be replaced economically. The vacuum seal on modern windows is never warranted more than ten to twenty years. Loss of vacuum or broken glass on most replacement windows requires replacing the sash or entire window.
Weather Stripping
Durable, effective weather-stripping can be retrofitted inexpensively on virtually any old window.
Performance Historic wood sashes outperform all competitors in durability and the thermal conductivity of wood is less than any other material used in window construction.
Hype
Window salesmen profit from selling new windows, not from encouraging you to repair your old ones. Beware of exaggerated claims and pitches like "energy savings of 50%." Also avoid window replacement contractors masked as energy efficiency experts. Remember, "maintenance free" is often translated "disposable."
Return on Investment
Replacement windows are not always more energy efficient than your old windows. Numerous studies show the cost of a replacement window is seldom recouped in energy savings during the life cycle of the new window. Investment in your original windows usually offers a better payback.