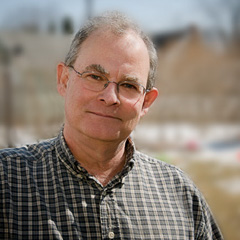 Steve Jordan
Steve Jordan
Steve Jordan has been in the old-house repair and restoration business for forty years and has exclusively repaired and restored thousands of windows over the past twenty years. He is a graduate of Cornell University's Historic Preservation Program and was a contributing editor for Old-House Journal for 17 years.
He was formerly rehab advisor for The Landmark Society of Western New York and an architectural conservator for Bero Architecture. Steve is the author of the award-winning Rehab Rochester: A Sensible Guide for Old-House Maintenance, Repair, and Rehabilitation (The Landmark Society of Western New York, Rochester, NY, 1995) and co-author of Painting Kitchens: How to Choose and Use the Right Paint for Your Kitchen Walls, Ceilings, Floors, Cabinets, Countertops, and Appliances (Quarry Books, Gloucester, MA, 2004). Steve grew up in rural West Tennessee, attended Memphis State University, and now lives and works in Rochester, New York. His goal is to prevent the thoughtless destruction of historic windows by bringing to light their enduring yet often overlooked qualities as compared to the short-term lives of modern replacement windows.
Steve has worked on many distinctive and significant historic sites providing various services including window repairs and consulting, graining and marbling, and condition inspections specifically related to historic building material conservation. Below is a short list of Steve's participation on listed or eligible National Register Properties.
Working on Details
Susan B. Anthony House (1856), Rochester, NY. Restored the 1856- 1890 windows and reinstalled them with zinc and bronze weatherstripping. Grained the trim and floors in several rooms. Assembled and worked with a crew of restoration craftspeople including carpenters, plasterers, paperhangers, and painters.
Hervey Ely House (1835), Rochester, NY. Restored most of the original double hung windows. Made extensive flat and decorative plaster repairs in double parlors. Specified and supervised restoration of exterior lime stucco on library wing.
John W. Jones House (c. 1868), Elmira, NY. Restored the single-hung windows.
Stone-Tolan House (1795-1805), Rochester, NY. Restored the windows with a team of volunteers. Supervised the 1996 restoration of the siding, roof, and built-in gutters.
St. Paul's Episcopal Church, Rochester, NY. Restored the 1910 Sunday school wing windows.
Third Presbyterian Church (c. 1892), Rochester, NY. Restored selected gothic windows on the original building.
Gates Hall, Pultneyville, NY (c. 1825). Restored selected c. 1880's windows.
Hinchey Homestead House and Museum (c. 1875), Rochester, NY. Restored selected deteriorated windows.
Chemung County History Museum (1833, 1868, 1920), Elmira, NY. Stabilized façade windows.
Llenroc (1870s), Ithaca, NY. Stabilized and restored selected windows.
Telluride House (c. 1910), Ithaca, NY. Repaired and stabilized windows.
Rochester Free Academy (1873), Prepared the window survey for restoration of the building.
Hoyt-Potter House (c. 1835), Rochester, NY. Marbleized the fireplace mantelpieces.
Schuyler Mansion (c. 1762), Albany, NY. Grained the doors and window seats in the parlors.
Genesee Country Village and Museum, Mumford, NY. Consultant and craftsman for various mid 19th-century properties in the village.
Bero Architecture. As an employee and consultant for Bero Architecture, Steve participated in the following landmark projects or reports: Graycliff (1926 - 1931), the Frank Lloyd Wright designed property in Derby, NY; The Edward Boynton House (1908) designed by Wright in Rochester, NY; The George Eastman House (1905) in Rochester, NY; Woodside (c. 1841), Aquinas Institute (c. 1925), and First Universalist Church (1908).
Since 2002, Steve has repaired or restored thousands of windows, most in ordinary homes built between 1830 and 1960. The author of
The Window Sash Bible
, his latest book is
Storm Windows: A Comprehensive Guide to Wood, Wood Combination, Aluminum, and Interior Storm Windows