Storm Windows
A Comprehensive Guide to Wood, Wood Combination, Aluminum, and Interior Storm Windows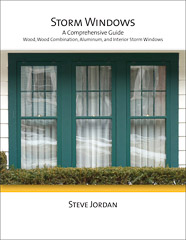 Cover, Storm Windows
Are you considering replacement windows or new storm windows? According to multiple studies and the U.S. Department of Energy, the addition of a storm window to a prime window is the best way to increase energy efficiency and indoor comfort when combined with a window in good condition. Storm windows also quell exterior noise and significantly decrease the frequency of maintenance glazing and painting.
Traditional wood storm windows look
right because they mimic the
proportions of the
primary sashes.
Storm windows can be a significant investment and a highly personal choice. Some owners want the traditional appearance of a wood storm sash while others seek a utilitarian aluminum selection. For some homes, exterior storm windows won't work and an interior storm panel is the best or only alternative.
Should your old aluminum storm windows be replaced? Learn how to evaluate their condition; in many cases, they can be retrofitted with new weatherseals that make them almost good-as-new. If you want the convenience of aluminum storms but worry that they are less attractive, styles are available that mimic the traditional appearance of wood storms and come in wide variety of color choices.
Interior storm windows (energy panels) are almost invisible and can be added to most windows to improve energy efficiency. Learn about the various options and fitting techniques that will work for you.
Storm Windows: A Comprehensive Guide is an invaluable resource for any homeowner struggling with the decision to purchase new storm windows or considering replacement windows and reading it is the best way to make a confident choice whether your decision is based on style, material, or cost. There's not another source like it.
Steve Jordan
Chapters Include:
Why Storm Windows?
Wood and Wood Combination Storm Windows
Traditional Wood Storm Sashes
Durable Wood Species
Joinery for a Lifetime of Service
Glazing and Glass Options
Sash Details and Screens
Measuring and Installation
Retrofitting Existing Wood Storms into Combination Units
Aluminum Storm Windows
Should I Replace My Old Aluminum Storm Windows
Understanding Aluminum Storm Sash Features
Aluminum Storm Sashes in Preservation Districts
Measuring and Installing Aluminum Storm Sashes
Interior Storm Windows
Pros and Cons of Interior Storm Windows
About Synthetic Glass
Temporary Window Protection
Selected Storm Window Vendors